When maintaining a tidy lawn, a rake might be your go-to tool – but it isn't particularly effective for large-scale cleaning.
It's not worth the effort to clean up every petal or leaf that has fallen. There are much more convenient ways.
A leaf blower doesn't come as cheap as a rake, but your back will thank you for making yard cleaning a speedier and easier task. There's plenty of options on the market, so if you're not sure where to start, we've rounded up our picks of the best-rated models.
BEST LEAF BOLOWER GUIDE
BLACK+DECKER 18V Lithium Ion Cordless POWERCOMMAND Leaf Blower, Amazon Australia, $69 .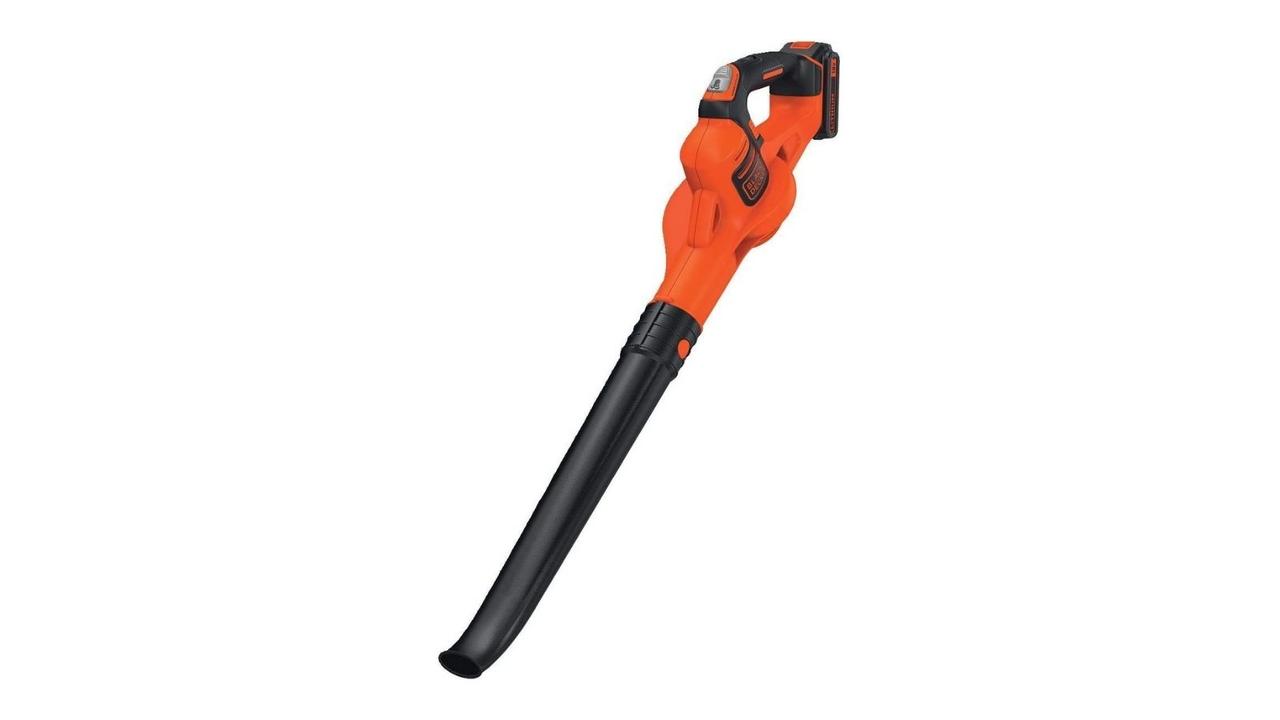 BLACK+DECKER 18V Lithium Ion Cordless POWERCOMMAND Leaf Blower. Image courtesy of Amazon Australia.
This is a great tool for clearing out driveways, paths and decks of leaves, grass clippings, and other debris. Multifunctional tool is powered with an 18V lithium-ion battery for cordless manoeuvrability. It is lightweight at 1.7kg so it can be used comfortably without causing any pain to your back, arms or shoulders. It also folds up easily for storage. The Power Boost function is capable of achieving a maximum speed at 209 kilometres per an hour, making it suitable for large amounts of debris.
It has a rating of four stars with one reviewer giving it five stars. "Does all that I need and meets with my expectations. I have two electric mulcher blowers but this unit is a lot lighter and easier to manage around the home blowing away gum tree leaves".
Giantz Lightweight Cordless Leafblower, Myer, 100.95
Giantz Cordless Lightweight Leafblower. Image: Myer.
The 20V lithium-ion battery powers the device. Giantz Cordless Blower has a durable yet lightweight body that allows you to work longer without tiring. The rubber grip throttle handle is easy to use and the narrow nozzle allows you to target leaf blowing. There's two speeds to choose from to suit lightweight or heavy duty cleaning tasks, too.
Makita 18V LXT Lithium‑Ion Cordless Blower, Amazon , $97.99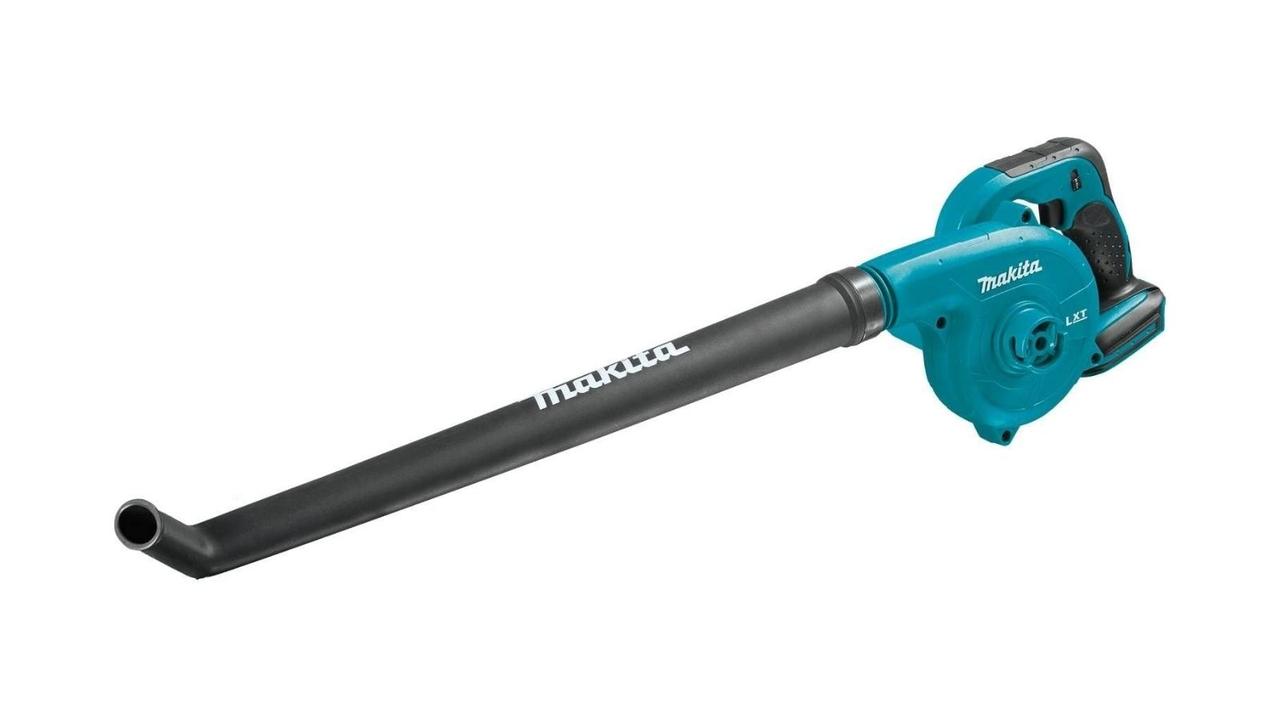 Makita 18V LXT Lithium Ion Cordless Blower. Image courtesy of Amazon Australia.
This leaf blower was made by Makita has a variable three-speed motor with a maximum air velocity of 288 kilometres per hour, for customised operation. The long nozzle's flat end allows you to hold it longer and is easy to use. You'll have to buy the battery separately – there's a few options that'll work, but the cheapest 18V option is the Makita BL1815N-L, although the BL1840 or BL1850 will offer longer battery life.
From over 3,800 reviews, the unit received a 4.6-star rating. One reviewer gave five stars and commented. "A great light weight / small appliance that does as good a job as any of the larger ones that I have owned, and being cordless makes it even more desirable".
Topex 20V Max Lithium Cordless Leaf Blower, Harvey Norman, $159
Cordless Leaf Blower. Image: Harvey Norman." width="1280″ height="720″ />
Topex 20V Max Lithium Cordless Leaf Blower. Image: Harvey Norman.
The aircraft can fly up to 120 km/h. Topex Cordless Leafblower is ideal for clearing light debris from your lawn or other outdoor surfaces. It's easy and comfortable to use due to its lightweight construction, and has a low noise design so your neighbours won't be too annoyed with you. It comes with a lithium battery for longer cleaning times.
BEST LEAF BLOWER & VACUUM
Bosch GBL18V-71N 18V Cordless Blower (Bare Tool) with 2.0 AH battery
Designed for powerful, efficient operation – provides cordless convenience

Versatile operation – provides a standard nozzle for use with or without extension tube

Efficient motor – provides a significant amount of air force: 71 CFM and 167 mph

Great runtime – efficient operation that delivers nine minutes per battery amp hour (Ah) on low speed and five minutes per Ah on high speed

Two-speed switch – provides enhanced control of airflow
$49.00
(
$1,388.10
 / Ounce)
Compatible with all Bosch 18-Volt Lithium-Ion tools and chargers

Unique Cool Pack Design: Special heat conductive housing and ribbing pulls heat away from inside the battery, keeping the battery cooler

Up to 2x Battery Life: Bosch COOL Pack manages battery cells temperature reducing heat-up, which is the main eradicator of every battery cell

Integrated Digital Fuel Gauge: LED Indicator for battery stage of charge

Durable Housing: Survives 3-Meter drop
This Three-in-1 tool offers blower, vacuum, and shredder functions for optimal garden tidying. The blower mode allows you to collect leaves and other debris in a neat pile. Next, attach the bag to vacuum the debris. The shredder can be used to compress the waste into compostable material. It has a variable speed blower motor that can reach speeds of up to 300 km/h. It also features a 2300W vacuum motor and a large 45-litre bag. fatigue-free use.
It has a rating average of 5 stars, "Once assembled the unit sat nicely on my shoulder and was easy to manoeuvre. The noise level of the unit is very bearable without earmuffs, silent if you put a pair on. I had no trouble at all picking up mounds of dried leaves or lines of dry leaves sitting up against my brickwork. When I activated the TURBO setting the power increased immensely and I was left with very finely mulched leaf litter. Perfect for scattering back onto the garden".
BEST LEAF SWEEPER
Kärcher S4 Twin Push Sweeper, Tools Warehouse, $299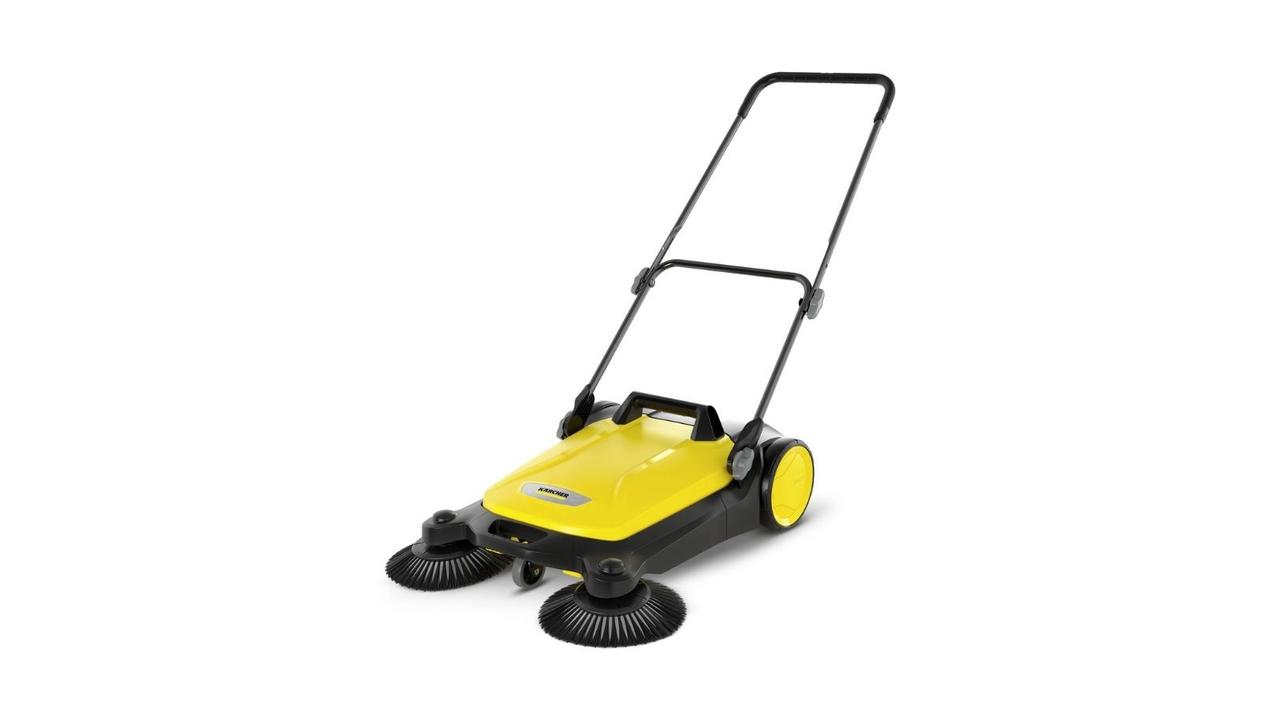 Kärcher S4 Twin Push Sweeper. Image: Tools Warehouse
If you've got artificial grass or large outdoor paved areas, the Kärcher S4 Twin Push Sweeper makes cleaning easy, whether you're dealing with petals in spring or leaves in autumn. It features a powerful rollerbrush, two side brushes, and a 680mm sweep width. It can handle areas up to 2400 m2 per hour. The 20-litre hopper holds waste and can be easily removed. The push handle is adjustable so it suits everyone's height, and the whole unit can be collapsed for space-saving storage.
It has a rating of 4.4 stars on average, with one 5-star reviewer stating, "it's a rare find these days when you buy something that just works perfectly. This is that example. It is robust, the revolving brush's adapt to the terrain and drag every piece dirt, leaves, grit, twigs, sawdust etc in toward the central rolling brush. It has a large capacity and is easy to empty. It can be stored upright and so has a small footprint".
If you're a fan of a tidy-looking lawn but you want to clear it of debris with minimal effort, a leaf blower is absolutely worth it. It performs more quickly and effectively than a rake, and can cause less strain upon your body – and is particularly useful if you have larger areas to clean.
WHAT SHOULD I DO IF I BUY A LEAF BLOWER
Are you wondering what features to look for when buying a leaf blower. Here's what you should consider:
• Weight: A lightweight blower is ideal, as it won't tire you as much even if you're doing some heavy-duty cleaning.
• Power source: You can buy corded, cordless, or petrol-powered blowers. Cordless blowers are great for their convenience and greater maneuverability.
• Variable speeds: Variable speed control blowers allow you to tailor the power and battery usage to your task.
• Maximum speed: A higher maximum speed can be helpful if you have a large yard. A smaller yard will allow you to use a more powerful blower, but it will likely cost less.
• Blower, vacuum or sweeper: Are you just after a blower to blast away leaves? Do you want one that can sweep up the leaves you collect? A sweeper may be better suited for you if your yard has a terrace.
HOW DO YOU USE A LEAF BOLOWER VACUUM
There are several ways to correctly use your blower or blower vacuum. If you're dealing with a leaf blower and a large amount of debris, you can place a tarp in the corner of the yard to direct the leaves onto. When you're done, you can easily dump the contents of the tarp into your compost or greens waste.
You can use the vacuum function on a leaf blower vacuum to collect dirt and debris between larger cleaning tasks. If you're planning on vacuuming large amounts of yard debris, you might have to frequently empty the catcher, depending on its capacity.
You are looking for more tools that you can add to your shed. Check out our roundups of the best electric lawnmowers, the best high-pressure water cleaners, and the best gardening tools.
Get the best deal on every purchase by visiting gardeningdaily.life, where you'll find top deals on your favourite stores from Catch to The Good Guys.
Lastly, don't forget to sign up to the Best Of newsletter for the latest shopping tips and sales news.